Holiday Hair Gift Guide
Have you left your Holiday Shopping until the very last minute, even after you swore that you wouldn't? Well, you are in luck, because we are about to share the PERFECT hair products for each and every person in your life! Thank us later.
Take the guess-work out of gift giving and grab these kits and stocking stuffers we created especially for the holiday. 

Our holiday kits both full size and travel size are available in our hero collections, Puff.ME & Gloss.ME. PLUS they are pre-packed in super cute pouches perfect to store any beauty lover's daily essentials. Our mini ornaments already come gift wrapped so all you need to is grab a pen! 
Making a list and checking it twice? - If you want to grab 2 or more ornaments, just simply add to cart and use HOLIHAIR at checkout for 20% off!
Curls require special products that compliment texture and lock in moisture. This gift is the thoughtful lifesaver your best curl friend will LOVE you for.

Enriched with argan oil, our Bounce.ME Curl Balm is designed to define and hydrate the hair for long lasting, bouncy curls. 
Unlike a lot of other curling creams out there, Bounce.ME won't leave hair feeling crunchy, sticky or weigh the hair down. Instead, it will keep the frizz down, protect from heat up to 400°F and is color safe! 
Also works great for our wavy babes too!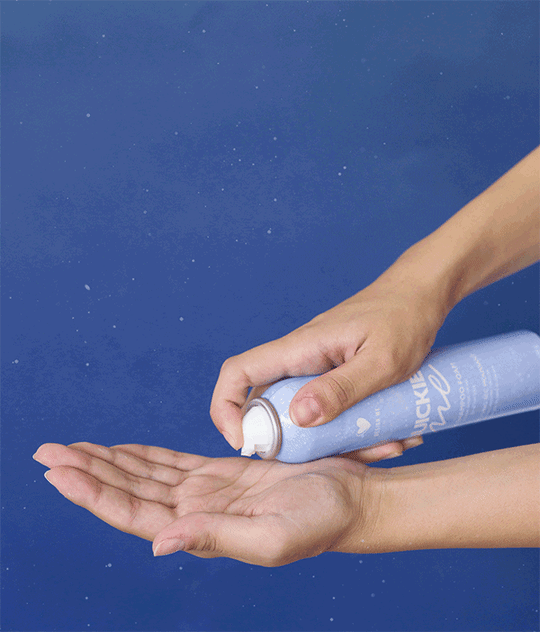 Know a super-Mom, a busy student or work out warrior? If you do, then you automatically know someone that will benefit from the ease of our Quickie.ME Dry Shampoo & Foam!   

Our Dry Shampoo is available for dark tones, light tones, and comes in a  colourless Foam, meaning that we have all hair types/colors covered!  Rest assured it won't leave the dreaded white-cast from those days we were shaking baby powder on our greasy hair. 
We all have those moments when taking a shower and having sopping wet hair sounds like the last thing we want to do. Instead, go longer between washes, eliminate odor and enjoy some extra oomph. 


Pro-Tip: Spray dry shampoo on before bed to wake up to a nice, clean head of hair. You can take the credit for that one...we won't tell.
Got a gloss-babe in your life? She's the polished perfectionist that wants instant results. 
Our Gloss.ME Serum infuses the hair with tons of healthy hydration to achieve that gorgeous glass hair look. Formulated with Cannabis Sativa Seed Oil, Hydrolyzed Soy Protein, Moringa Seed Oil, and Argan Oil, this serum will help the hair shine from the inside, out! 
The best part about this serum is that it works for all hair types, smells great and can be used in so many different ways. Use on damp hair before styling or run through dry hair and tame the frizz! 
Disclaimer – You CAN use the product if you are pregnant. Our Gloss.ME Collection does not contain THC nor essential oils. 
for the life of the party
Who's the one that feels more is more and bigger is better? This gift will give them everything they're looking for. 
Our Puff.ME Texturizing spray is going to bring volume and life to flat, limp hair. In just a few sprays, this product will add brush-able texture to the hair so it stays in place but looks super natural.  
For any cool-girl who wants the lived in look without the effort. Let the Puff.ME party begin!
What people are saying about Design.ME
"I'm obsessed with all of Design.Me's products. They are all products you would use on a daily basis! They smell amazing and work SO well! 💙"
JOIN OUR DESIGN.ME SQUAD FOR NEW VIDEOS, STYLING IPS, EXCLUSIVE OFFERS AND MORE!