HYDRATION VS. MOISTURIZATION - WHAT'S THE DIFFERENCE?

If your hair sometimes feels brittle, frizzy, or lacks shine, then your hair is likely in need of a little TLC in the form of hydration and moisture products. The keyword here being "and" – because it's really not a debate of one or the other; both hydration and moisture play an important role in hair health! In the beauty world, it's common to hear the words used interchangeably… and while certain products may have both hydrating and moisturizing properties, this isn't always the case. So, in this blog post, we'll explain the difference, and how to achieve hair that's both hydrated AND moisturized, and discuss some of our favorite hydrating hair products – all with the goal of reviving your strands to their healthiest, glossiest state!
Hydration is the act of having water penetrate the hair, while moisturization is the act of keeping it in there.
WHAT IS THE DIFFERENCE BETWEEN HYDRATION & MOISTURE?
Let's keep this easy & simple. Hydration is the act of having water penetrate the hair, while moisturizing is the act of keeping it in there. Hydration therefore comes first, and moisture second.
To help you visualize, think of your hair soaking in a bathtub – It really doesn't get more hydrated than in that moment! However, once you leave the bath and your hair eventually dries, it is not necessarily true that this water has been locked into the hair shaft and retained. In this case, we have a lack of moisture retention, which for many of us, leads to frizzy, tangled, and brittle strands.
HOW DO I HYDRATE MY HAIR?
Hydration is all in a hair product's ingredients! The quality of the ingredients, where they're sourced, and the way they're processed all make a massive difference. Low quality ingredients can create build-up on the hair, therefore blocking the hair strands from receiving all the good vitamins and nutrition that are essential for healthy, hydrated hair.
Some of our favourite hydrating ingredients for hair products include Hyaluronic Acid and Glycerin. Hyaluronic Acid (often labeled in ingredients lists as Sodium Hyaluronate) is a superstar ingredient that can attract up to 20x the amount of water to the hair strands. Glycerin on the other hand, is a humectant which will not only help hydrate the hair but will also aid in softening hair strands.
Another important tip to consider when hydration is needed is to opt for sulfate-free shampoos. Sometimes marketed on your shampoo bottle as "SLS free", sulfate-free is important for hydration because it tells us that this product is free of harsh detergents that actually strip the hair of precious hydration.
Lastly, not to be overlooked when hydration is needed, is the PH of the products we use when cleansing and conditioning our hair. While water is neutral at a PH of 7, having your shampoo and conditioner be on the lower, more acidic side will leave your hair in the best condition possible. Our GLOSS.ME hydrating shampoo is a great option here; with a PH between 4.5-6, it contains the optimal PH level for attracting hydration where it belongs… the scalp and hair shaft.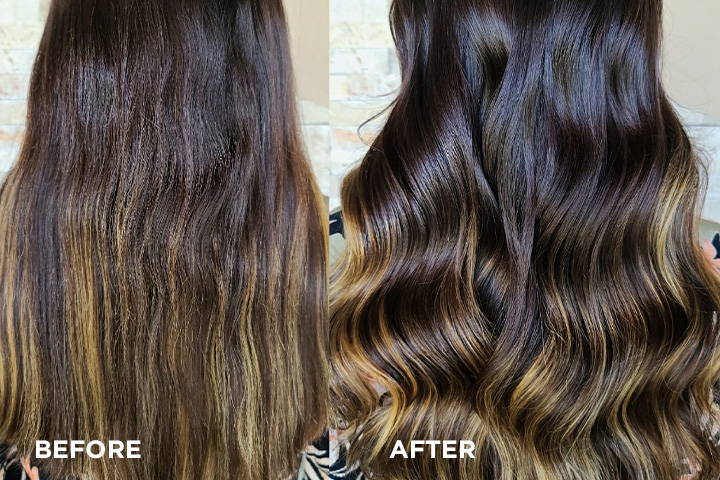 HOW DO I MOISTURIZE MY HAIR?
So, now that you've hydrated your hair, you'll want to seal it all in – and again, moisturizing is all about the ingredients. In this case, the star ingredients to preserve and retain moisture content tend to be natural oils & butters, as they create a protective barrier around the hair shaft and minimize evaporation of water molecules.
If your hair is in need of moisture, we highly recommend our GLOSS.ME hydration & shine collection, which is completely sulfate-free, paraben-free, and designed with 5 natural oils to support moisture retention, without weighing your hair down.
Cannabis Sativa Seed Oil to both moisturize and simultaneously strengthen the hair.
Argan Oil to lock in that hydration we have restored to the hair, leaving hair frizz-free and oh-so glossy.
Moringa Seed Oil to prevent split ends (hallelujah yes please!)
Rice Bran Oil to give hair a boost of shine
Hydrolyzed Soy Protein increases the hair's ability to hold moisture, for long-lasting shine and smoothness.
For the ultimate results, don't miss out on our GLOSS.ME hydrating treatment mask. It features the highest concentration of the above ingredients, and a PH of 3.5, making the shine and softness of the hair other-worldly. This hydrating hair productIt really is something that must be experienced, whether in-salon or as part of your at home beauty regimen!
MORE HAIR TIPS TO DISCOVER